Koederitz Law Firm, LLC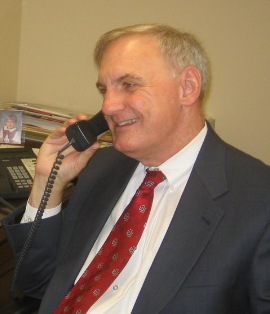 Gary P. Koederitz
Baton Rouge Louisiana Lawyer
Gary P. Koederitz is the founder of Koederitz Law Firm, LLC. Mr. Koederitz received his J.D. degree from Louisiana State University Law School in 1981. For the past twenty-seven years, his civil trial practice has concentrated on automobile accident litigation, maritime personal injury, railroad injuries, products liability injuries, consumer claims, and other personal injury and wrongful death litigation. His experience also includes representing individuals with claims for disability and life insurance benefit denials.
Mr. Koederitz is a member of the Louisiana State Bar Association, Baton Rouge Bar Association, and the Louisiana Association for Justice. He is a past member of the Board of Governors of the Louisiana Association for Justice, and served in that capacity for a period of several years. He is also a member of the American Association for Justice, and of the American Inns of Court, Dean Henry George McMahon Chapter.
Mr. Koederitz has lectured to attorneys in the fields of maritime personal injury, trial practice and proceedure, evidence, and other areas of law on numerous dates.
Martindale-Hubbell is the primary service that rates the quality of attorneys in the United States. Martindale-Hubbell has given Mr. Koederitz its highest rating, as an "AV" attorney.
For a detailed description of the types of claims in which Gary P. Koederitz has represented individuals during the past twenty-seven years, please see "Experience & Cases."
Our practice area encompasses the State of Louisiana, including West Baton Rouge Parish, East Baton Rouge Parish, St. Bernard Parish, Orleans Parish, Caddo Parish, Lafayette Parish, Calcasieu Parish, Rapides Parish, the Louisiana Gulf Coast, Houma, New Orleans, Hammond, Metaire, Lafayette, Lake Charles, Shreveport, Monroe, Alexandria, Slidell, New Iberia, Chalmette, Tallulah, Bogalusa, Covington, Franklin, Abbeville, Morgan City, Minden, Winnsboro, Gonzales and all Louisiana cities in between.
Koederitz Law Firm, LLC
4607 Bluebonnet Blvd., Suite B
Baton Rouge, LA 70809
Telephone: (225) 295-9494
Telecopier: (225) 295-9495
Contact our Law Firm
View Map